WIAW: A day of fresh, easy food
June 22, 2011 § 23 Comments
I know this may be a bit voyeuristic and maybe even a bit weird, but I love knowing what other people eat. Not just one meal, but their daily menu! I think it says a lot about a person. So, when I read my first What I Ate Wednesday at Peas & Crayons, I was hooked. (By the way, if don't know about What I Ate Wednesday, you can read up on it here.) Anyhow, after months of reading, I have decided to do my own WIAW! Enjoy!

For breakfast I made a parfait with yogurt, granola and fresh strawberries that were hand picked by my Grandma at Lindley's Farm and Market in Ancaster. I can't even say how much I love parfaits! The crunch of the granola, the sweet taste of the strawberries and the creamy yogurt – it doesn't get any better! In fact, since I made this parfait on Monday, I have made one each morning!
For lunch I had the "no bacon" bagel BLT that I had been craving for so long. And, let me tell you, it was worth the wait. It had marble cheese, onions, tomatoes and lettuce on an everything bagel – an easy but satisfying lunch! (Speaking of bagel sandwiches, tell me this is not the most brilliant thing you have seen in your life. I don't buy CDs but now I may just have to.)
And then I had half a Skinny Cow ice cream bar for dessert. No, I didn't eat half to cut calories. My mom just didn't want the rest of hers! (I know, she's nuts.)
For dinner I made a Mexican pizza that had corn, black beans, onion and salsa for sauce. I wasn't sure if I would like this pizza but, as it turns out, I love it! (Who am I kidding? I love pretty much any kind of pizza.) Even my Mom, who likes to play it safe, said how much she liked this! The salsa was such a unique idea and I just loved being able to get my protein from the black beans. The best part was the crust. Baking the crust first with nothing on it and then again with the toppings made it so thin and crispy.
If you would like the recipe, which I got from Diabetic Cooking, May/June 2011, here it is.
Ingredients
1 package of refrigerated pizza dough
1 cup of salsa
1 tsp of cumin
1 cup of canned black beans, rinsed and drained
1 cup of frozen corn, thawed
1/2 cup of onion, chopped
1-1/2 cup of Mexican cheese blend, shredded
Directions
1. Heat oven to 425°F.
2. Flour and knead your dough until it is soft. Then spread it onto a greased cookie sheet. Bake for 8 minutes.
3. Once the dough is cooked, combine the salsa and cumin and spread it over the crust. Top the pizza with the corn, beans and onion. Bake for another 8 minutes.
4. Finally, top the pizza with the cheese and bake for another 2 minutes or until the cheese has melted.
I then had a chocolate chip and oatmeal cookie from the Sobey's bakery. I know, I know, I should be making my own cookies. But they are so good!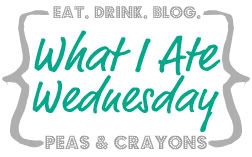 §

23 Responses to WIAW: A day of fresh, easy food